The innovative IoT I/O IP board with relays
fully WEB managed!
Ethernet interface
Available in different versions
Up to 4 analogue inputs 0-10V/0-5V at 10 bit
Up to 8 digital inputs, even opto-isolated
Up to 8 220V@10A output power relays
Control LED on board
Entirely WEB managed
User friendly WEB GUI
Free SDK API based on HTTP protocol
New firmware available with improved features
Management of automatic sceneries
It converts any traditional fire and alarm system in IP technology
PADI, remote IP I/O WEB managed control at your service
PADI is the ideal Input/Output IoT interface over IP to manage systems remotely, to control any analogue and digital sensor via Internet, to switch on and off relays attached to motor or to remotely activate gates, lights and more, all from a very easy WEB interface.
Per maggiori informazioni scrivi subito a This email address is being protected from spambots. You need JavaScript enabled to view it.
Italian design and DIN rail mounting
PADI is available in different versions, designed to be easily installed in 9 modules DIN rail domestic or industrial cabinet.
Very easy GUI
You can view and remotely manage the status of analog and digital I/O through any WEB browser from your LAN network or from any Internet connection. Its clear WEB interface allows you to configure all the main settings, to easily read the values from the sensors and to control actions on output devices connected to its relays.
Do you want more from your remote control system over IP?
See how it is so easy to remote manage a complex system over IP with iCare from WEB, connected to the I/O cards over IP PADI from a Tablet or Smartphone Apple or Android or even from a Smart TV without installing any APPs!.
With new firmware, I/O over IP PADI board allows you now, through its simple web interface, , to customize not only the labels of its digital and analog inputs and relay outputs but also to manage automatic behaviors on its output relays in case of one or more states change on its digital inputs.
PADI automatically activates its relays on your behalf
PADI is manageable by other third-party software Through simple requests based on its HTTP protocol is easy to integrate PADI board in any supervision and remote control software solutions developed with any programming language (C, C++, C#, Visual Basic.NET, ASP.NET, PHP, PERL, PYTHON, JAVA e JAVASCRIPT) running on any operating system.
Example of use
These are just some examples of what you can manage with PADI relay board over IP:
ON/OFF REMOTELY LIGHTS

OPEN/CLOSE REMOTELY OR LOCALLY GATES VIA WEB

SIMULATION OF REMOTE PRESENCE IN AN ENVIRONMENT

REMOTE ACTIVATION OF A PUMP OR A LIGHT


REBOOT REMOTE EQUIPMENT (ROUTER, SERVER, RADIO....)

REMOTE VOLTAGE MONITORING
PADI is controllable from any smartphone, tablet and now from a SMART TV!
You can now read the status of the inputs, drive output relays wherever you are from any smartphone, tablet, and also from the Smart TV without installing any APPs.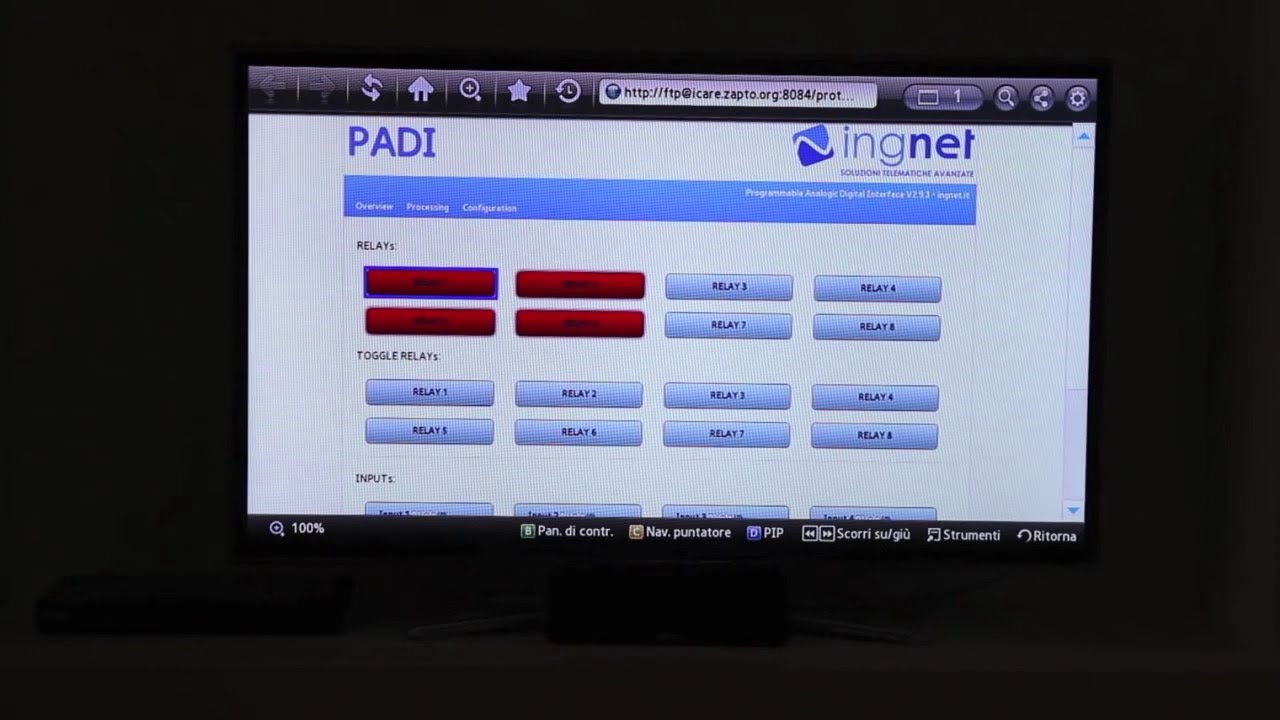 ---
compatible with